Federal funding for arts groups to build digital literacy and applications
July 21, 2019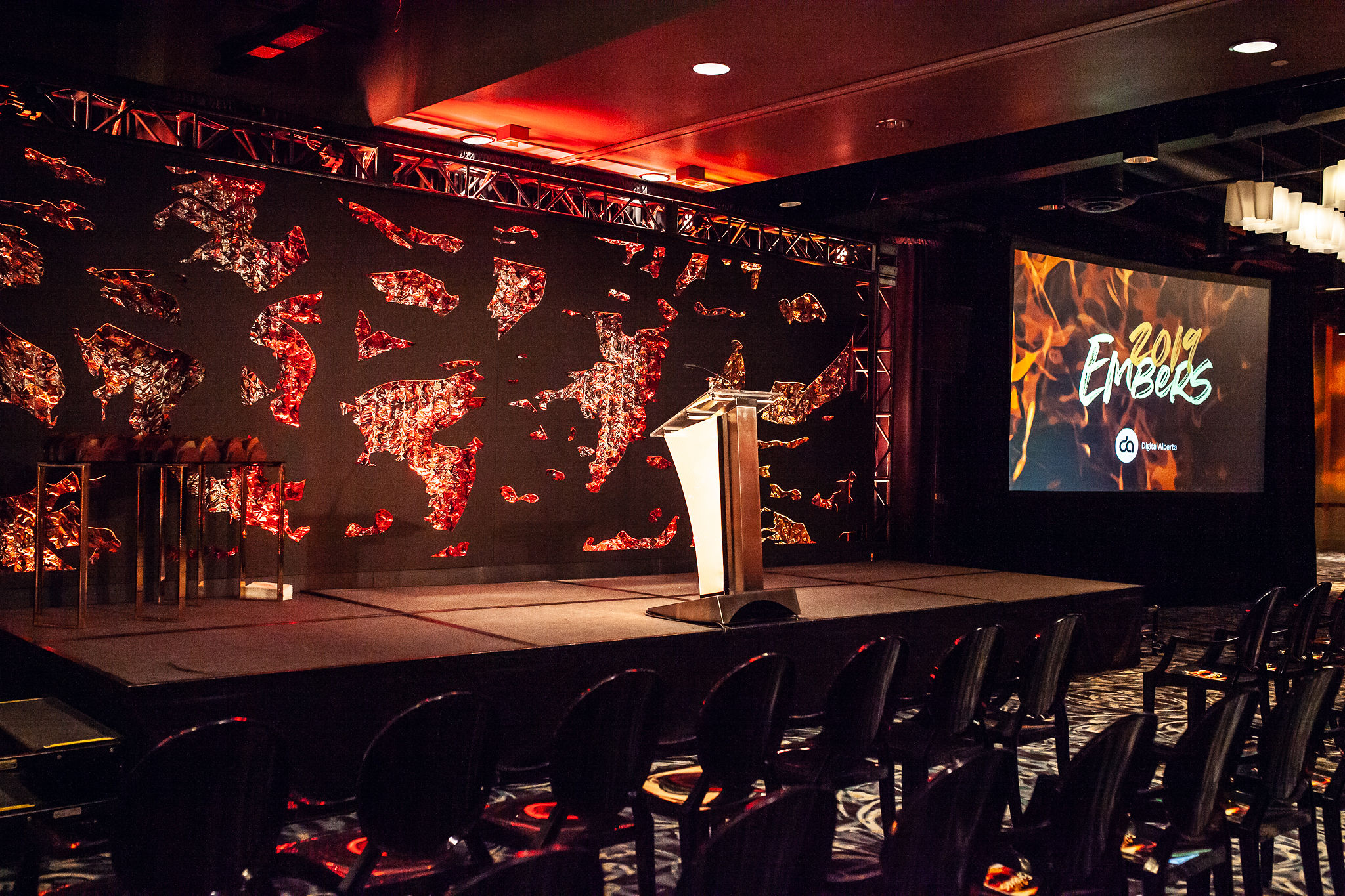 Celebrating Alberta's unique talent at the 2019 Ember Awards
November 16, 2019
Putting digital art into Alberta's collective conscious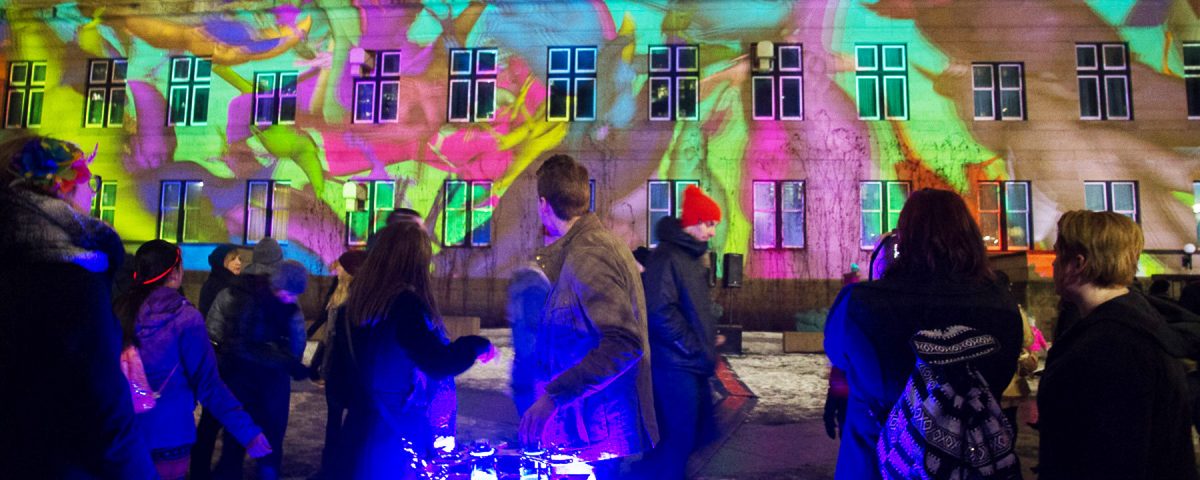 If you have visited Ottawa during the summer over the past five years, you may have seen the nearly hour-long video display being projected onto Parliament every night, featuring animations, video, and music that honours the country's culture, geography and history.
Similarly, in Montreal, the University of Quebec (UQAM) showcases a different artist every month through digital projections on its buildings. These artworks have covered everything from the history of Montreal, to the plight of local homeless people.
Other examples of public digital displays can be found the world-over. Unfortunately, such digital projections are few and far between in Alberta. Yet.
AZMA (short for Axis-Z Media Arts) is hoping to change that.
In a three-dimensional Cartesian coordinate system, the Z-axis is the axis that gives an object depth (or what makes it 3D).
"There's opportunity for so many more things to happen in Calgary — and Alberta as a whole — but there's not a lot of awareness of the digital arts," says AZMA co-founder Matthew Waddell. "We want to inspire people."
AZMA is a Calgary-based collective focused on "creating genre-blurring digital art experiences that step outside the confines of the rectangular screen and into the real world". These experiences include not only projections, but also interactive installations, animation, and sound.
In 2017, Waddell, a sound designer and programmer by training, teamed up with Colombian visual artist Laura Anzola to create AZMA. As well as hosting a studio and collaboration space for other artists in this field, AZMA also offers specialized training in projection mapping, 3D animation, and interactive / real-time graphics and systems.
"Part of what we're trying to do is explore new technologies and tools, including hardware and software, to create art that hasn't been seen before," says Waddell. "The education component is about putting more of these tools in creators' hands, and helping to build accessible experiences in Alberta that will just blow people's minds."
Over the last three years, AZMA has partnered with groups like the Emmedia Gallery & Production Society and Ghost River Theatre to offer specialized training workshops. They have also developed media installations that has been experienced at the Calgary Public Library and the Canadian Museum for Human Rights in Winnipeg, as well as several local festivals.
Interactive Digital
Earlier this year, during Calgary's GLOW: Downtown Winter Light Festival, AZMA transformed an ordinary wall into a sea of looping geometric shapes filled with animated characters and shape-shifting textures. Working with local animation and electronics experts, Waddell and Anzola modified a retro exercise bike to become "an interactive projection controller" that audience members could operate to move the projections. Viewers could also have their face photographed and incorporated onto the head of a dancing geometric character.
"The recent push to real-time graphics has been very exciting for us," says Waddell. "It used to take days or even weeks to render a 3D animation, as you'd have to send it to an external company. But in the last few years, graphics cards have advanced to the point where you can do real-time rendering, and instantly create and change visuals. This is what allows you to incorporate photos into a display, or create animations that respond to input like the rhythm of music or the movement of a person's body."
Most recently, AZMA took part in an interactive projection showcase within Calgary's Memorial Park Library during the 2019 Beakerhead festival.
Anzola is currently working on a "dome projection experience", called Blue Borders, that will combine animation, projection, sound, and water to immerse viewers among a pod of migrating whales. "I'm paralleling my experience as a foreigner — adapting to a new culture and reinventing myself — to the migration of humpback whales, who travel thousands of kilometres every year," she says.
Through the use of modern 3D video and sound technologies, she is creating a full-sensory experience for audiences that will make their interaction with art more real, and moving.
The Need for Public Art
Both Waddell and Anzola are trying to change the feelings of many Calgarians towards public art.
"People need to be informed, not threatened, by art," adds Waddell. "It also helps if the artwork is accessible and fun. I do think the artist has a certain responsibility to make their art more interesting and engaging for audiences. Ultimately, people want memorable and exciting experiences."
This "culture shift" to a greater acceptance of public art is where AZMA's community building will become vital.
"We're trying to get more people to interact with us and build projects. We could always use more help," says Waddell. He and Anzola are constantly on the lookout for 3D animators, programmers, and "any forward-thinking people with creative ideas" to join their community.
"We're really looking for the people who are doing unconventional things in Alberta!"
For more information on AZMA, and how to get involved, contact info@azmadigital.com.
As well as their upcoming AZMA projects, Matthew Waddell and Laura Anzola currently have individual artworks on display at the Art Gallery of Alberta as part of the "Processor: Digital and Analogue Retranslations" exhibition. These works are available to view until October 20, 2019. For more details, visit the exhibition's website.